Location: Manor Farm, Stratton on the Fosse
What do they do? Root Connections runs a community market garden which offers social and therapeutic horticulture sessions for individuals and groups. They grow and sell vegetables, salad and cut flowers on land provided by partners, beside a hostel for the rural homeless.
When do they meet? Tuesday & Friday mornings from 10am – 1pm for Volunteer Land Days
Who can join? Adults, due to nature of the project they are unable to accommodate children
Is there wheelchair access? Yes, but no toilet facilities for wheelchair users yet (awaiting planning permission)
Get in touch: email Sue – sue.crossbourton@rootconnections.co.uk
https://www.facebook.com/wearerootconnections/
https://www.instagram.com/wearerootconnections/?hl=en
Growing Grants Showcase - Sue Cross-Bourton Manager of Root Connections reports: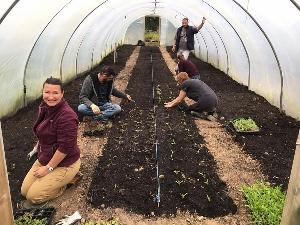 The Growing Grant contributed towards a project worker salary and the building of a small classroom on site. They have needed to push through planning requirements, building regulations and materials submissions, but know that they will complete this important all-weather space.
It has been a challenging time, lock-down meant restaurants and markets closed, leading to a loss of income from their garden produce sales. However, Covid-related funding was a lifeline. 'There were advantages of being a relatively small project, it brought more freedom and flexibility and the ability to adapt to the constantly changing circumstances'. Sue explained that despite these challenges, they know that their work is essential.
'We have seen an increase in the need and demand for our service, especially our social and therapeutic horticulture activities. This is where most of our time, energy and money have been spent this year.'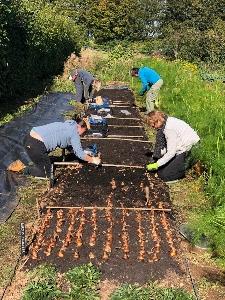 Success stories
One hostel resident facing a wide range of challenges has relapsed and re-engaged with the project several times. He currently works in the garden every hour he can. An increase in his confidence has been noticed, as well as more social and community involvement. He has become a role model for others, taking on a head volunteer role and managing his own area and team.
Another participant who had experienced bereavement and mental health difficulties has benefited from both the group and 1-1 horticulture sessions. It has increased his confidence and helped build more independence in his daily life.
Forming connections and community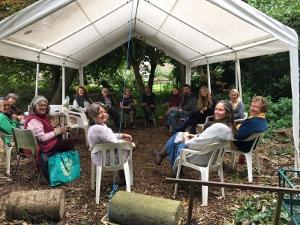 Sue highlighted that partnerships are at the heart of the project developing and that that volunteers are benefiting from their involvement. They are continuing to build connections and are developing a partnership with a local GP surgery, to reach more people who may benefit from getting involved in the project.
'The wider volunteer team continue to learn more and gain a sense of purpose through their involvement with Root Connections, building a stronger community around the project.'
Photos - Root Connections
*See the funding page for more details
51.264353749766, -2.4796075788795
Manor Farm,
Stratton on the Fosse,
BA3 4QF