Organising Effective Events
Having a clear purpose, a suitable venue, people-power and good publicity are all part of putting on a successful community food event. Here is an overview of these elements and what to consider.
The Soil Association's have produced a short guide to organising local food events.
Community Seed Swaps
What is a seed swap?
A community seed swap is a social event where people get together to swap seeds, learn about seed saving and to share experiences. It can be as small or as big as you see fit. It might be a few allotment buddies working collectively to save a variety of seeds over a season and then coming together to swap varieties, or a group of activists keen to highlight the importance of seed swapping as a means of protecting local biodiversity. Over the past decade, community seed swaps across the UK have mushroomed.
They offer communities a very practical way to take positive action to protect biodiversity and to protest against the increasing control of the seed supply by a handful of large companies. Saving and swapping seeds sounds like a small thing to do to combat this huge problem, but it is vitally important.
Why save and swap seeds?
To support biodiversity
To save money
To build relationships with fellow gardeners
Because the top three seed companies own 53% of the world's seed market, and the top ten own 70%
Because we have lost 75-80% of our agrobiodiversity
Because of increasing corporate and state control over seeds, threatening small producers and biodiversity everywhere
Organising a seed swap
There is plenty of information available on setting up a seed swap and Seedy Sunday in Brighton have information on their website on how it works.
Films to show at Seed Swaps
Showing films at seed swaps can be a useful way of introducing the necessity of political action around seeds and how seed sovereignty affects everyone - North & South. Below are two recommended films produced by the Gaia Foundation:
Regular Seed Swaps in Somerset
Frome Potato Day & Seed Swap 
Links & Resources
Event tips;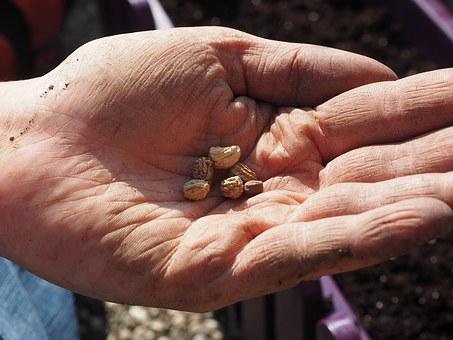 Choose an accessible community venue to run your swap. You can start small, this keeps it more manageable, you can build up more support for your event each year.
Involve organisations and groups that share an interest in local food and growing as well as seed saving e.g. allotment societies, community gardens, growing projects etc. Ask them to help on the day or run an activity or information stall.
Publicity – start a Facebook page or other online page, take photos on the day to build content and support over time. If on Facebook create an event and invite / share with other community groups and contacts.
Provide advice / information on saving your own seed, or signpost people to resources e.g. Seed saving, Seed sovereignty, Seed stewardship
Heritage seed - join the list to receive surplus heritage seed (for a donation) and you can add your event to their listings.
Ask for donations if people don't have seeds to swap, this can help cover your costs and potentially contribute to your next event. Providing refreshments and asking for donation can also raise funds.
Create a mailing list – gather e-mail contacts on the day to let people know about future events.
Follow your event with a seedling / plant swap, people always have plants to spare. Put a date in the diary and let people know it's happening at the seed swap.
Community Seed Libraries
Some communities are setting up a seed library in a community space, where locally-grown and saved seed can be stored and exchanged, e.g. in libraries. This creates a local repository which can be easily and regularly accessed, and can be a good way to encourage people to start growing.
Online seed swapping
Many communities have set up seed and plant sharing forums online, typically on Facebook:
Harvest Shows and Fayres 
Harvest Shows are annual celebrations of the harvest that have taken place in communities all over the country for generations. They can be very diverse - some more competitive than the Olympics, and others more silly and less serious.
To organise a harvest show, food festival or fayre, it is worth following the same steps to organise any event effectively. If you are new to organising events, it may be worth volunteering with one of the community groups that make the events happen in Somerset, so that you can see all the planning that goes on behind the scenes.
Glastonbury Harvest Show ran for 13 years to highlight the importance of local food & community, and celebrate the joy & benefits of growing your own produce.
Food Festivals and markets
Local Food Festivals & Fayres are also growing in popularity. These events, which bring together stalls of local producers, enable the general public to find out about local food and meet people locally. Once again, they are a celebration and can contribute to a sustainable food system by creating markets for small producers and generating public energy and support around local food:
Film Nights & Public Meetings
Film nights are a fantastic way to raise awareness. They can bring people together, inspire and motivate, and bring sometimes abstract issues into an empathetic reality. 
Likewise, public meetings are opportunities to get people in the same room that may care about the same things, and through meeting others be inspired to act.
Organising Film Nights & Public Meetings
In terms of public meetings, it is very important to have a focus and a clear aim. Why do you want all these people in a room together? Who are you hoping will turn up? What will be the next steps after the meeting? What are you hoping the outcomes will be?
Many venues will let you use their space for free, if people attending are buying drinks for example. A number of community organisations will also have projectors and screens available to hire, if there is not one in the venue where you are going to be.
Some films require a license fee to be able to show it. Its worth looking up the film and seeing what the legalities are. Some of the more radical films will be very supportive of you organising a film showing and may even have some leaflets and materials available to support you. We would always recommend getting a hardcopy of any DVD you're showing in case of internet troubles!
Films to Show
We have tried to collate some of the most popular, hard-hitting documentaries about the food system, as well as some practical titles, that could be useful for grassroots groups organising films nights.
 
Organising Effective Public Meetings: A Case Study - Access to Land Roadshow
Somerset is a vast rural county and with 1.5 staff, engaging with people across all 5 districts was a challenge during the Somerset Land and Food Project. The roadshow was designed therefore to go to where the people are and go beyond generalist marketing. Working district-by-district on a month-by-month basis from January to May 2012 our roadshow enabled Somerset Community Food to:
To launch very targeted grassroots marketing in one district at a time, including local papers, parish bulletins, radio and more as well as poster campaigns in towns & villages and targeted invitations
The results of the completed allotment survey for that particular district were presented, giving a clear, evidenced picture of demand for land.
Each evening hosted main
speakers Linda Hull and Allan Cavill, from the National Society of
 Allotment and Leisure Gardens, as well as a panel of people who had been there and done it - local groups who had started allotments, community gardens and more. This enabled an exchange of information, inspiration and advice. A panel style question & answer session supported this skill sharing.
Information stands with fact sheets & resources complimented the evenings.
Post event press-coverage also meant more opportunities for landowners & seekers to become engaged.